"If you do only one thing when visiting Hoi An, make sure you take part in The Original Taste of Hoi An Food Tour. A true cultural experience, it was, by far, the best thing I did while visiting Vietnam."
– J
AMES
C
ORORAL
T
RAVELER
P
RESS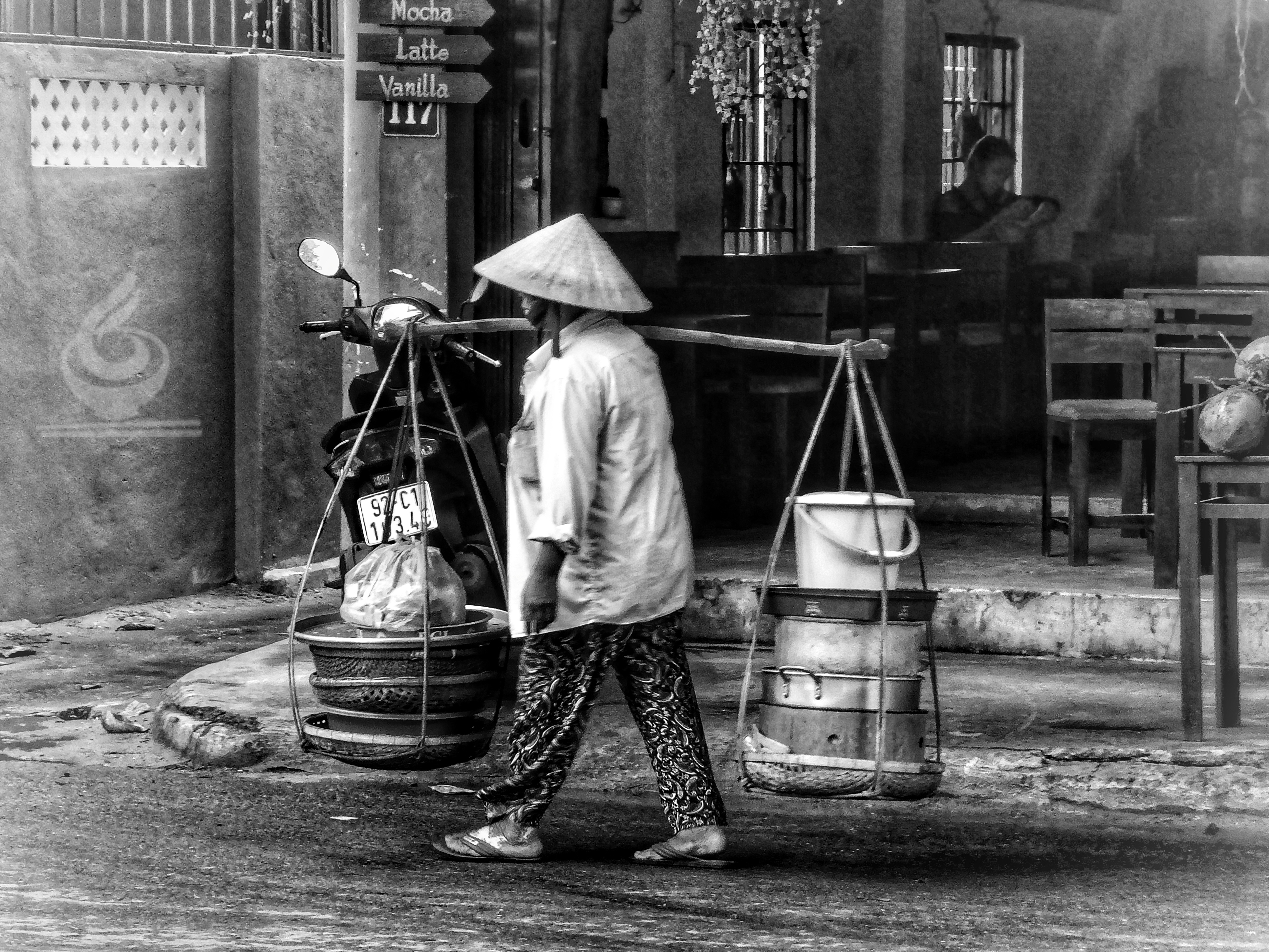 Q1. What should I expect on the tour? During the first two-hour walking part, tastings will be served both standing and sitting in eating places usually catering to only the local Hoi An people. While on this part of the tour we walk down bustling local streets experiencing the sounds, sights and tastes of the neighborhood – great photographic opportunities. During the second two-hour part you will be seated in our comfortable private purpose-built tasting room sampling food brought in from vendors outside our walking tour route.
All the food tastings and beverages (including unlimited complimentary bottled water) are included in the price of your tour.
Q2. How much food is there? 
More than 40 tastings are offered over the four hours – enough food not to need breakfast before – or lunch after the tour. 
You will however enjoy your evening meal with a normal healthy appetite.
Q3. Are there beverages served on the tour? 
We provide unlimited complimentary bottled water throughout the tour. There are also some alcoholic beverages as part of the tastings – offered only to adults.
Q4. Can you cater for vegetarians or food allergies? We provide for all manner of dietary requirements. Being vegetarian doesn't present any issue at all – missing maybe two or three tastings out of more than 40 offered during the tour. If you have a food allergy please advise us prior to your tour.
Q5. How should I dress for the tour? 
Just dress casual, wear comfortable walking shoes and bring a hat – and sunscreen.
Q6. Does the tour operate in all weather? 
Our tour operates in both rain and shine. We are only outdoors for a maximum of one hour of the four-hour tour. If it rains during the tour we offer complimentary parkas, however you should try to dress appropriately for the forecast weather conditions.
Q7. Are children welcome on the tour? Over the years we've enjoyed having hundreds of children of all ages on our tour. We even have a Food Tour Legends' Challenge – children who taste all foods offered are awarded the Food Tour Legends Certificate. Our youngest Legend is four-year-old Delia
Q8. How much walking is involved? 
The total tour distance is less than one mile (1.6 kilometres). Also the pace is slow with three sit-down eating place stops. You are on your feet off-and-on for approximately one hour – with no stairs. The walking part provides an authentic Vietnamese experience.
Q9. Is the tour wheelchair and/or stroller-accessible? Wheelchairs and strollers are easily accommodated on our tour and we caringly lend any assistance. If you have further questions, please contact us.
Q10. Are bathrooms available during the tour? Yes, clean western-style bathrooms are available throughout the tour.
Q11. Can I book a private tour for my family or group? 
Yes, private tours are available for a group of up to 16 people. If you book well in advance there is a good chance that we can accommodate your needs. To inquire about a private tour, please email: theteacher@tasteofhoian.com We will respond within 24 hours letting you know if the date is available and other details. Full payment is required seven days in advance of the tour date.
Q11. Is the tour offered in languages other than English? No. We're sorry. The tour is only offered in English at this time.
Q12. Are gratuities included in the price? We do not include gratuities in the price of our tour. Although never expected, gratuities are appreciated. Also we reward our team with a pay bonus for each positive TripAdvisor review.
Q13. Will I have a good experience taking a food tour as a single? 
We regularly have singles on our tour. We have found that most people who take our tour are adventurous and sociable, interested in trying new foods and open to meeting new people – even making new friends. We like to think of each tour as its own family group happily exploring the food and food culture of Hoi An together. If you are open to meeting new people and having a great time, you will enjoy our tour.
Q14. Are gift certificates available? Yes, certificates are available and make the perfect gift for friends and family visiting Hoi An.
Q15. I took this tour previously – has anything changed? 
Our tour evolves constantly. Many parts of the tour remain the same however we do our best to improve upon and enhance the experience. We have guests repeat our tour every time they visit Hoi An – some up to six times!